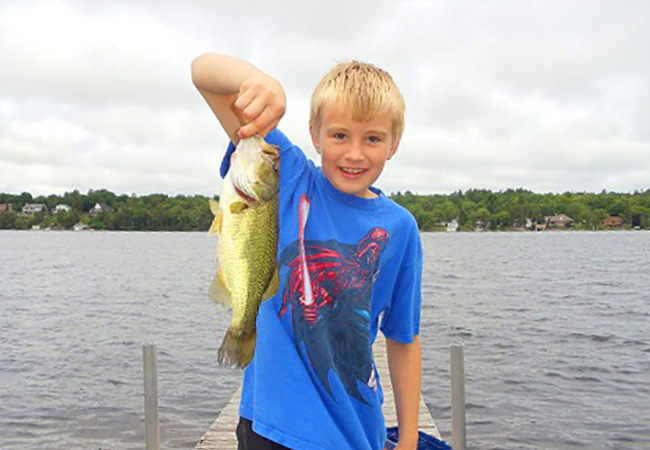 Pigeon Lake is the location to catch that big one you have always been dreaming about. Muskie, large and small mouth bass, pickerel (walleye), and panfish are all available in Pigeon Lake. Whether you are an experienced angler or new to the sport, you are sure to have fun fishing in the Kawarthas.
Muskelunge (Muskie)
This pike-like fish is known as the largest and most unpredictable sport fish in the Kawarthas. It has vertical bars or spots on its side, a long sloping snout, needle-like teeth and wide-set eyes. Average weight of 12-20 pounds with a maximum weight of 30 pounds or more, muskie are common catches for anglers with persistence and knowledge as to how to pursue them. Large lures such as Giant Pikies and Rapalas should be used and trolled next to weed beds. The latter part of September and October are best for muskie fishing. Using a good quality water muskie plug, casting and reeling in quickly along the shore lines and over the weed beds could very well land you a muskie. Be prepared to fight to the finish.
Small Mouth Bass
Also known as the black bass, the smallmouth is a member of the sunfish family. They average 2 to 3 pounds. Dark vertical bars are found on its sides. The jaw does not exceed beyond the back of the eye. They are found along rocky shoals and islands by still fishing with frogs, minnows, crabs and crayfish. Smallmouth bass feed most actively when the water temperature is between 65 to 70 degrees F. They will be in the shallows at this temperature and will move progressively to deeper water in search of a preferred temperature. July and August are the best smallmouth bass fishing months.
Large Mouth Bass
The largemouth has dark, irregular bars from the head to the tail. The upper jaw extends beyond the back of the eye. There is a deep notch between the dorsal fins. They are more often caught in weed beds which provide natural shelter. Use spinning equipment and live bait: frogs, minnows, crabs and crayfish. August and September are the great months for anglers looking to catch largemouth bass.
Pickerel (Walleye)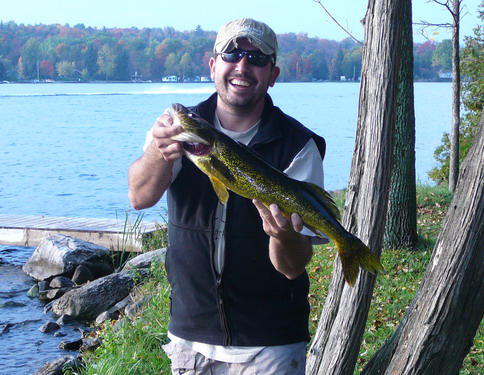 Pickerel is a member of the perch family with olive green sides and back. They are glassy-eyed fish with golden flanks and a creamy white tip on lower portion of the tail. Walleye are considered one of the best eating fish. Abundant throughout the Kawartha Lakes, they can weigh from 3 to 14 pounds. Feeding activity is closely related to light and temperature conditions. Pickerel prefer to feed in the evenings and very early morning or in the poor light conditions afforded by murky water. Use minnows as bait and fish in fast water, or trolling with a Mepps Spinner, Canadian Wiggler and Rapalas is suggested. Pickerel fishing is excellent from May to June when using worms and worm harness. During the summer, use any bottom lure, baited with worms. Work them slowly along the bottom. The best places to find pickerel is beside any channel area, near woods and rocky areas.
Panfish
The various Panfish found in Pigeon Lake include bluegill, perch and crappie. They are excellent eating-quality fish. They live in a wide variety of waters. They can be easy to catch in shallow bays, but difficult to snag in open water. Because crappies won't leave their beds to chase food, you should place your bait near them using light spinning gear so as not to disturb them. The resort offers a full featured fish cleaning facility for preparing your catch.