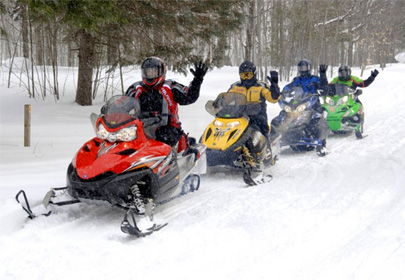 Pigeon Lake Resort is a member of the Twin Mountains Snowmobile Club ("TMSC") located in the Kawarthas. TMSC is a member club of District 2 of the Ontario Federation of Snowmobile Clubs ("OFSC"). The club was founded in 1974 and joined the OFSC in 1975.
TMSC maintains approximately 160 kilometres of groomed trails in Peterborough County, just east of Bobcaygeon, Ontario. Trails connect to the Kawartha Snowmobile Club trails to the west and Buckhorn Snowmobile Club trails to the east. TMSC has approximately 745 members from all over southern Ontario.
TMSC operates one Tuckercat with Mogul Master drag in order to provide the smoothest trails possible. Groomer operators work tirelessly to ensure that our trail conditions are perfect.
Snowmobile Trail Permits are mandatory on all snowmobile trails in Ontario, and they must be prominently displayed on all snowmobiles.